Korpo Bladet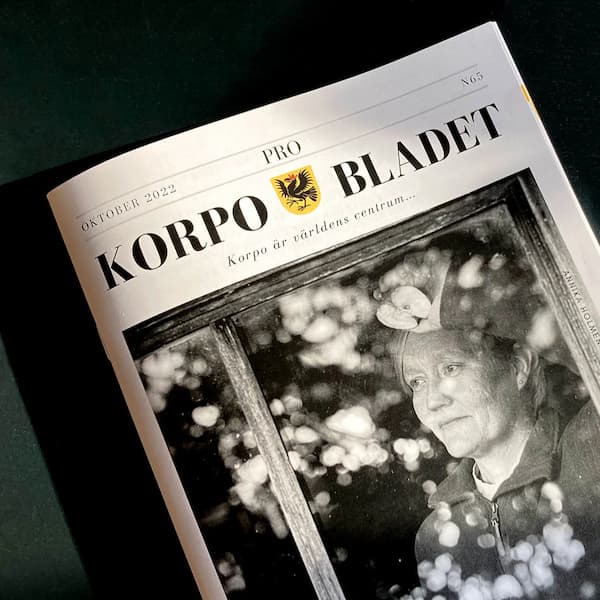 A local and rural monthly magazine crafted with love 💚
Pro Korpo Bladet is a project of which we are very proud. It is a free local and rural publication that has been delivered to every household in Korpo every month for more than six years. We use it to draw attention to local events and initiatives, local history and local businesses. But it is also a space to think about the future and the challenges of a rural community.
We want to create a sense of community and help the people of Korpo build their self-esteem. For decades we have been told by the dominant culture that the real and exciting life is in the city, we strongly believe this isn't true and we are working tirelessly to prove it. In this section you will find all previous issues of the magazine. Long live Korpo Bladet!
You can find all Korpo Bladet issues in PDF format in Visit Korpo webpage:
link
Why to choose
Ubuntu Productions?
We have extensive experience in the fields we work in. We have created dozens of websites that serve our clients well, we have been publishing a magazine since 2017 and have worked on a variety of graphic design projects, and we have photographed events, places and products extensively over the years. We like to use our creativity and skills to help others, and we specialise in offering quality services that focus on simplicity, together with a positive and exceptional service.
Through our experience in a variety of service-oriented businesses, we have developed the flexibility to adapt effectively to new situations and projects, and to deliver professional services of the highest quality. We believe that by putting our heart and soul into every project, we can ensure that our clients receive the greatest value for their investment and be proud of the work we do.
We like to maintain positive communication with our customers and suppliers. We understand that we are all human beings with dreams, challenges, fears and struggles. We believe that everyone does their best and deserves to be treated with respect and love. Only then can we use our work together to develop a kinder humanity.
For many years the dominant culture has told us that the real and exciting life is in the cities. We have discovered that living in the countryside can be exciting and fulfilling in many ways that are difficult to experience in the city. We value silence and nature, our creativity can only be at its best when surrounded by both. By using our services, you are supporting young life and entrepreneurship in a rural environment.
Our business goal is not to get bigger and bigger, but to build a healthy work life around our personal lives and goals. By choosing to be a small family business, we can be sure that we will be able to adapt quickly and flexibly to new situations and be in direct contact with our clients, focusing on offering creative solutions to their challenges. When you use our services, you are supporting a creative and positive family business.